Curing oven for Glass Wool production lines
The purpose of the curing oven is to polymerize binding agents (like resin of different ones) previously mixed with the fiber in the fiberizing zone; moreover during the curing process the felt receives its final thickness.
The curing process proceeds by means of hot air.
The oven consists of different sections connected with each other; each section is autonomous and has its own system for hot air recirculation.
The hot air in the curing oven is generated by special burners operating with natural gas, GPL, or gasoline.
The machine consists of 2 opposed conveyors (top and bottom), controrotating and formed by high resistant chains and perforated steel flights.
The bottom conveyor is fixed and the top one is adjustable in height, this allows us to obtain the necessary product thickness.
All the settings (speed, thickness, temperature, lubrification, cleaning, etc) are managed automatically.
The curing oven of Gamma Meccanica is able to guarantee optimum results in terms of dimensional tolerances, curing of the product, quality of the product surface and low energy costs.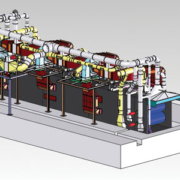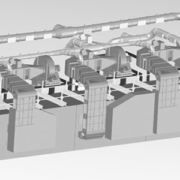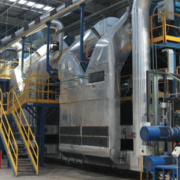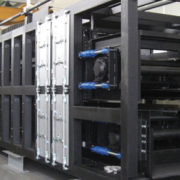 Discover the other machines
Would you like to know more?
Contact us for a consultation