Curing oven for rock wool production lines
The curing oven is used for the polymerization of the binder contained in the felt, by hot air, in order to give to the final product its density and shape.
Gamma Meccanica S.p.A. has developed a new curing oven to polymerize the felt on rock wool production lines, completely redesigned to improve the maintenance and increase the efficiency of the machine (reducing the consumption of energy).
Main characteristics of curing oven
The curing oven is suitable to work the final product with the width up to 2500 mm (net width after the trimming).
The maximum opening space for maintenance between the conveyors is 500 mm.
The maximum work thickness is 300 mm.
Thanks to the technical research and modeling/simulation FEM software, the deformation of the material during the curing action is reduced to a minimum, ensuring the requested tolerances of the finished product.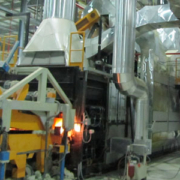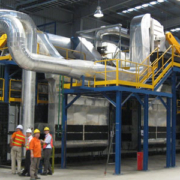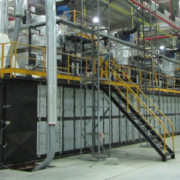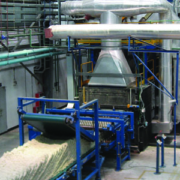 Discover the other machines
Would you like to know more?
Contact us for a consultation