Cutting units for rock wool production lines
The cutting units are used to complete the production process, cutting product to the requested size. The cutting units generally include the following groups:
Cutting and trimming of the lateral edges;
Longitudinal slitting unit;
Thickness band saw;
Cross-cutting unit.
All the cutting units of Gamma Meccanica S.p.A. use the cutting blades of "no dust" type rotating at very low speed. This ensures a precise and clean cut without irregularity, a greater productivity of the line (there is no waste of cut material), and does not require any type of dust suction system and related filtration.
Edges trimming unit
The edges trimming unit is used to cut the rock wool panels, after the curing oven and cooling, on both sides to reach the final width and have a smooth side surface.
The machine is designed to mill the scraps after cutting: the ground product is sent to the forming chamber to be mixed with new fiber.
The material does not pass through the fans, by this they have a high durability. It is also possible to use for transport suitably designed conveyor belts.
Longitudinal slitting unit
The longitudinal slitting unit is used for material slitting in order to have final product with required dimension.
Cross-cutting unit and/or high speed chopper
The cross-cutting unit is used to cut the product at the required length.
The panels of any density are usually cut with a rotating blade saw with one or two cutting heads, getting a clean cut, without dust or irregularity.
The cutting with a guillotine is used for light or non-resinated felts, with high speed of the production line, where the more indented quality of the cut is not a problem.
In both cases, there is no dust during the cut.
Thickness band saw
The thickness band saw is used to produce two or more layers of panels from one single felt, cutting it on the thickness. The advantage of this procedure is the reduction of the operating speed of the line and the obtaining of lower thickness and density.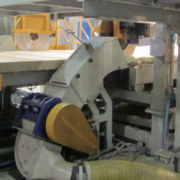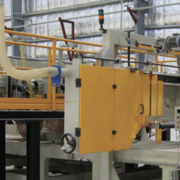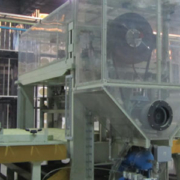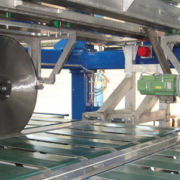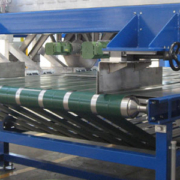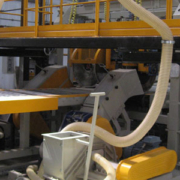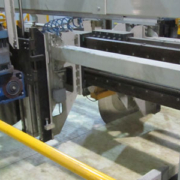 Discover the other machines
Would you like to know more?
Contact us for a consultation